Discover more from Matt Mecham
On community, forum platforms and managing development
Five community lessons from running with Zwift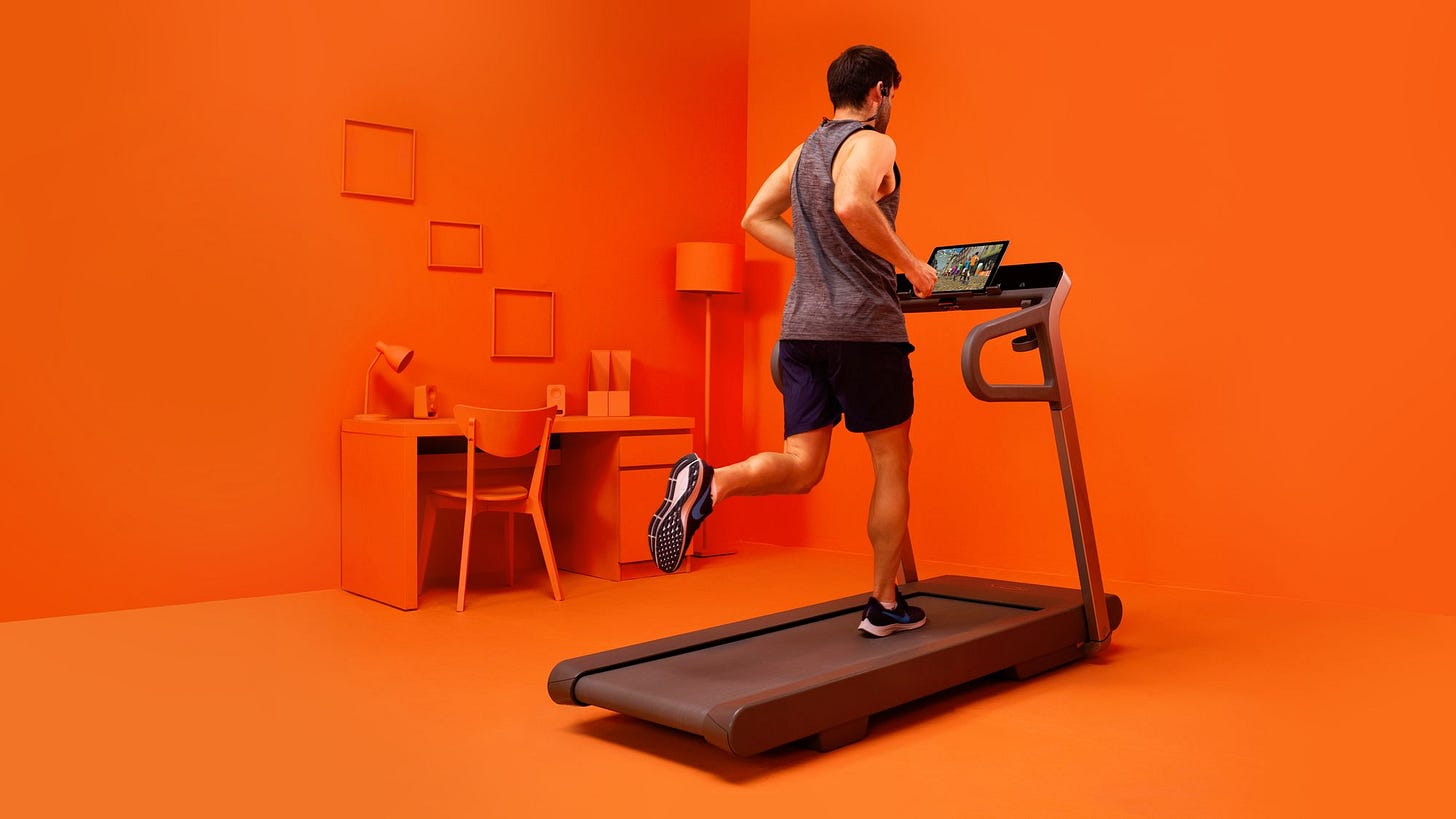 I am a runner. Or perhaps a jogger. Does anyone know the delineation between them? Is it based on pace or effort? I digress.
My running journey
I know you're short on time, so if you don't want to read my amazing journey of self-discovery and reflection, just skip to the next heading.
Still here?
My very brief running story is that I lost a lot of weight in the last few years of my 20s by running very slowly on a treadmill. Until 2020, my running was sporadic and exclusively on treadmills except for a few races outside (including one called 'Chilly Willy' for a prostate cancer charity that got me into a local paper). For years at a time, I'd not run only to slowly phase it back into my workout routines again.
I was getting back into such a routine in early 2020 when two things happened: the first was a lockdown in response to COVID, and the second was my treadmill motor and logic board started burning. I phoned and emailed around looking for replacement parts, but most of the world was shut down. No one had any idea when parts would be available, let alone be possible to send an engineer out to fit them.
I decided I could either quit running or venture into the outside world. I chose the latter and haven't looked back since. I really enjoy getting out and running into sunrises, watching the seasons develop and pass and finding a true sense of wellbeing in running through mud and over pavements.
I recently moved some of my running back to the treadmill as I found running in the dark really dispiriting. I aim to get out at around 6am. Unfortunately, with few lit routes to choose from during winter, I found myself plodding over the same route 4 times a week, and my progress (and enthusiasm) was sliding backwards.
Enter Zwift Running
Fun fact, Zwift started out as a geeky side project for a Californian cyclist who built a custom sensor and program to help him pass the time on his bike over winter. He posted about it on a forum (yay for forums preserving history) and from there, he met his co-founder, and they developed it into Zwift over the next few years.
Zwift has since become a giant in the cycling world. It offers a mix of socialisation, competition and gamification. The more hours logged on a bike, the more outfits and in-game accessories you unlock. In addition, Zwift has events starting almost every hour of the day worldwide, so you can race with others in real-time.
More recently, Zwift added running with the same feature set. All you need is a treadmill and a foot sensor or compatible speed sensor on the treadmill.
A few weeks ago, I downloaded the app onto my Apple TV and gave it a go in the hope I could log some treadmill miles to avoid the dark and cold outside.
Spoilers: It is fun and slightly addictive because of community events.
The Zwift Running Community Experience
My first run in Watopia, the fictional island where most Zwifters start, was fun. I found myself overtaken by cyclists and came across the odd runner here and there. With the companion app, you can message those around you and give them a thumbs up "Ride On!"
However, running in this way is not a community experience. Everyone was doing their own thing. You can message people, but it's similar to walking around a supermarket randomly waving and saying hello to strangers. You're more likely to be dragged out by security than make friends.
A community is more than thousands of people doing the same thing at the same time.
Lesson 1: Make it repeatable
A fundamental building block of any community is giving members a reason to return. Zwift does this with regular running events all around the world. You can join any of these events and, in most, choose your ability level so you can run with those with a similar level of fitness. Events run 24 hours and generally every 30-60 minutes.
The first event I picked started at 6am and had 8 people signed up. However, once I joined, I found myself running with one other person who disappeared into the virtual distance within a few minutes.
I quit that event and went back to jogging around Watopia as cyclists sped past me in groups just to rub in my digital loneliness.
The next event I joined was hosted by the Zwift Long Distance Runners. They have many events in different time zones and are inclusive to all abilities, from walkers to ultramarathon runners.
Even though the event started at 6am, it was well attended with over twenty people joining from Europe, the US and Australia. We did an hour of AYOP (at your own pace) with a very chatty bunch of runners who somehow put in swift times and retained the ability to type.
I was hooked, and I joined the following 6am event and the next. I quickly recognised names and was welcomed into the group.
Joining an event and coming back with the same group of people is the foundation of any community.
Lesson 2: Onboarding, onboarding, onboarding
There are many ways to welcome people into your community. You can automate it or give it the personal touch. I felt immediately welcomed by the run leaders in our 6am group. They pointed me in the direction of their Facebook Group and encouraged me to join. They also (gently) asked when I could come back to join them for another run.
There is a lot written about community onboarding but honestly, being friendly and pointing newbies in the direction of the best resources is better than overly complex automation and multiple touchpoints via apps, email and websites.
Lesson 3: At your own pace
Joining a new community can be daunting. You feel like a stranger in a new town and desperately want to fit in.
Overly enthusiastic onboarding can be a deterrent towards fitting in. Not only do the ZLDR run at their own pace, but they also did not push for me to immediately sign up for a week's worth of events. The feeling was very much drop in when you can and see what you think.
Be encouraging and supportive but let your newbies settle in at their own pace.
Lesson 4: Niche down
My first experiences running with Zwift were fun, but I still felt very much alone jogging around. Zwift has tens of thousands of people on at any time, but to really feel part of a community, you need to start small and niche down. When I found the ZLDR events, I found myself speaking to the same three or four people and once I felt secure and part of the tribe, I could venture out and explore more.
Make sure your community is not too broad and ensure there are spaces where small groups can develop and explore together.
Lesson 5: Create paths to develop members
ZLDR have many run leaders, and all of them started off as new community members at one time. I'm confident that if I stick with the group for long enough, I have a pathway to becoming a pacer or run leader. Offering opportunities to those who want to help and support the community is vital to ensure longevity.
Good communities have 'super user' programs to develop committed members into leaders of smaller groups. These super users set the tone and expectations for new members to follow.
Epilogue
I doubled my average weekly running mileage last week simply by wanting to run more with Zwift. However, I am only scratching the surface. I can now join a team of runners who compete against each other for mileage and speed.
I look forward to waking up early, which is something I'd never thought I'd say.
Communities are all around us. I enjoy building community tools and helping brands create and develop their communities. Still, I often enjoy being a community member more. I especially love it when I join a great community and take lessons away from it that I can use in my own communities. There are some great books on community building but living that experience is a better teacher.
Are you a member of a great community? Let me know on Twitter!